If my people, who are called by my name, will humble themselves and pray and seek my face and turn from their wicked ways, then I will hear from heaven, and I will forgive their sin and will heal their land. 2 Chronicles 7: 14 (NIV)

Then Jesus said, "Did I not tell you that if you believe, you will see the glory of God?" John 11: 40 (NIV) 
On February 7 every year, the Movement of Prayer for Haiti shall hold a National Day of Pardon and Reconciliation. All christians and churches will be encouraged to join by dedicating part of their services on or around this date to Pardon and Reconciliation.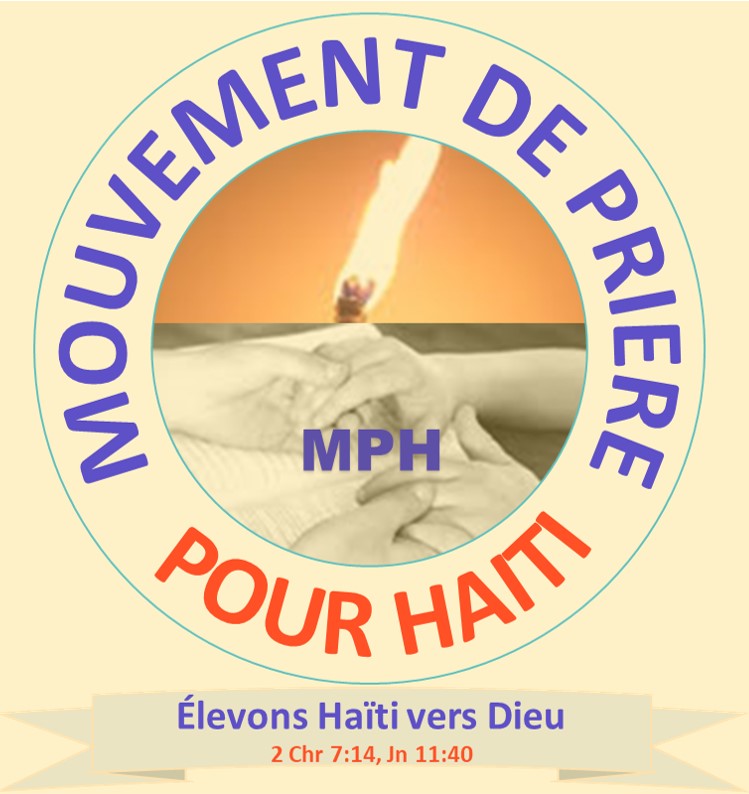 Register your Group of Prayer for Haiti
The Movement of Prayer for Haiti through the Nehemiah Group offered me the opportunity to have a new experience with God. I rediscover a new dimension of God's plan for humanity through his love for the peoples. The Psalms often relate the importance God attaches to the happiness of the peoples; in Psalm 33:12 it says "Blessed is the nation whose the Lord is God"; in the book of Revelation, chapter 21 talks about the new Heavens and the new Earth and clearly mentions in verse 26 that the glory of the nations will be brought there. And again it is the Lord, the God of the Universe who asks us to pray for our country in the book of Jeremiah 29: 7: "It is in his peace that we will find our peace ..." The Nehemiah Group puts me on a path of spiritual growth urging me to grasp a new dimension of the power of prayer in the face of a huge challenge that seems insurmountable and unrealistic. Praying for Haiti is therefore one more opportunity for me as a finite being to concert with the Infinite on the happiness of a people. I rediscover the power and the love of a liberating God, the action of the Holy Spirit of God as I expect to live the extraordinary transformation which will give families peace and security, and the Haitian nation a new glory more excellent than that of the pearl of the Antilles. I also found empathetic compatriots there, ready to do their best to contribute to the education of young Haitians. Yes, I believe it. Thank you to Nehemiah for allowing me to contribute to the expansion of this great prayer project for Haiti's prosperity in all respects.
At the invitation of Ambassador Jean Ricot Dormmeus, I became a member of the Group Nehemiah of Prayer for Haiti. So far, this experience has been a blessing in many ways. First, it allows me to have new friends, something that I really like. Secondly, among these friends, I was able to discover talents like Past. Badette Noelsaint, and Ms. Aurore Dalencourt who helped me in my radio broadcasts. Pastor Badette is a former Radio Lumiere journalist. He promptly accepts to share with me information making the headlines in Guyana. For her part, Ms. Dalencourt works in an educational institution in Haiti. While in the United States, she helped me understand the new school agenda that prevails in Haiti during the passage of Covid-19. In addition, she opened my eyes to the predicament of Haitian visitors who have been forced to stay in the United States because of the pandemic. Thirdly, I discovered Guyana, this little piece of land in South America which gained independence in the sixties. Until then, I was unaware of the existence of Guyana. But now I have chosen it as my next tourist destination. Fourthly, it allowed me to renew my fraternal relations with Ambassador Jean Ricot Dormeus, whom I have not seen for about 20 years. Brother Ricot and I attended the Adventist Church of Fermathe, in the commune of Petion Ville, around the 1990s. Because of his professional obligations he had traveled. A few years later, the political events of 2004 prompted me to leave Haiti in 2005 to reside in the United States. Fifthly, the group makes me pray more, something that is by no means my strong point. I hope to continue to receive many more blessings. I hope that the other members of the Group Nehemiah do likewise. God bless you all!
The Movement of Prayer for Haiti, in particular Group Nehemiah, has brought an additional source of blessings to my life. I feel I have been providing spiritual resources to my country. I have developed a better eagle eye to pierce hovering dark clouds and see the sunshine, with my homeland as I am praying for it to become, a pearl of great price, a shining, peaceful and prosperous city on a hill.

I have enjoyed many benefits from my engagement in a permanent movement of prayer for Haiti, including:

1. I have won new friends and revived old friendships. Praying for Haiti does create a fraternity through Christ.

2. I have experienced spiritual upliftment as the sessions are to the point, based on an effective agenda comprising prayers, Bible reading, meditation on a theme.

3. I understand better that to transform Haiti, l need to start with myself. In addition to living a better life, I must love and serve my family and people in my circle of influence to create waves of culture change that in time will reach every compatriot. Self transformation equates to taking responsibility for nation transformation.

4. While I focus on interceding for my land and my people, all complaining and commenting on bad news recedes and makes place for hope, appreciation and positive thoughts.

5. I realize more clearly that prayer begets action, service and a spirit of generosity. We have had opportunities to support ideas and projects with potential to make Haiti a better place.

I believe that the Movement of Prayer for Haiti will mobilize thousands, even millions of intercessors, in search of the best for our land.
When I moved to Guyana six years ago, one of my concerns was whether I would be able to contribute to the advancement of the Kingdom of God as I used to in my homeland. On several occasions, I had been invited to join buddies at church here in Guyana, but because of reasons I would prefer not to mention I was just going to church but not engaged in any activities.

When I was approached, a couple of months ago, by my brother Jean Ricot Dormeus to join this important movement of prayer, which later created Nehemiah Prays for Haiti, I felt that it was a good and timely opportunity to add my voice to those countrymen and women who are imploring God's mercy upon our beloved country, and to make a contribution as a believer.

As a member of Nehemiah Prays for Haiti, I feel more compelled to pray for a change of the living conditions in our country and its development. Being a member of Nehemiah Prays for Haiti has aIso granted me the opportunity to meet, though virtually, other committed brothers and sisters who believe in another Haiti, and are willing to bring their contribution to this process through prayers.

I would like to take advantage of this forum to thank Ambassador Dormeus for listening to God's voice to give birth to such a commendable initiative and his invitation to be part of this great movement of prayer for Haiti. I also would like to encourage my fellow brothers and sisters of Nehemiah and Joshua to continue to intercede for our country. Let us work on the footsteps of Nehemiah in seeking God's grace for the rebuilding of our nation.

Peace and grace of the Lord be with us!!!
I warmly greet all those who have taken this great initiative to pray for Haiti, the country we love and cherish. I thank God for giving me the chance to be part of this group. I used to be very pessimistic about Haiti but as soon as I joined Group Joshua of the Movement of Prayer for Haiti, hope was reborn. Now I speak and think differently about my country and all thanks to Joshua.

My affiliation also added another dimension to my way of praying. All I am doing is glorifying my God and thanking you also dear coordinators for your dynamism and dedication. Let us be determined and patient because God will make remarkable feats in favor of our country. Let us remain united and always hold on to the Vine which is Jesus Christ.
Training Course on the
Movement of Prayer for Haiti
Registry of the Groups of Prayer for Haiti
| Name of the Group of Prayer | Location (areas or countries where the members live) | Number of members | Day and time of Prayer session |
| --- | --- | --- | --- |
| Nehemiah | Haiti, Guyana, United States, Canada | 13 | Saturday, 4:00 pm |
| Naomi | Haiti, US | 10 | Sunday, 7:00 pm |
| Joshua | Haiti, US, Canada | 13 | Saturday, 5:30 pm |
| Gedeon | Haiti, USA, Canada | 10 | Sunday, 6:00 pm |
| Daniel | US, France | 7 | Saturday, 2:30 pm |
| Timothy | Haiti, Guyana, USA, Brazil | 16 | Saturday, 7:00 pm |
| Deborah | Haiti, Canada | 7 | Saturday, 6:00 pm |
| Moses | Canada | 4 | Friday, 7:30 pm |
| Simeon | Haiti, Guyana | 8 | Saturday, 8:00 pm |
| Job | USA | 8 | Tuesday, 7:00 pm |